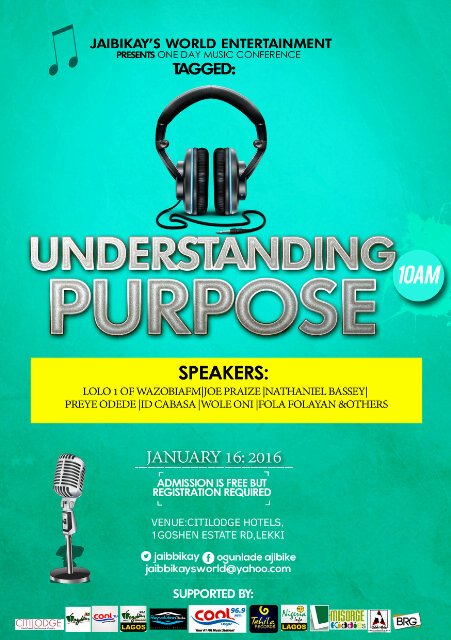 Jaibikay's World Entertainment presents a one day music conference tagged "Understanding Purpose". Join a host of distinguished music acts and key players within the music industry as they share from their wealth of knowledge.
Do you love music? Are you hoping to build a career in music but not sure how to go about it? Are you looking for mentorship in your musical career? Then this is for you!!
Speakers include Nathaniel Bassey, Joe Praize, Preye Odede , ID Cabasa, Wole Oni, Lolo1 of Wazobia FM, Alex Amos (SelahAfrik), Tola Omoniyi (Praiseworld), Fola Folayan and many other greats.
Date: 16th January, 2016
Time: 10am
Venue: Citilodge Hotels. 1 Goshen Estate road, by Elf Bus-stop, Lekki.
Admission is free but registration is required. Register at Jaibikaysworld.com
It's all about impacting lives!
Connect:
Instagram | Twitter: @Jaibbikay
Web: Jaibikaysworld.com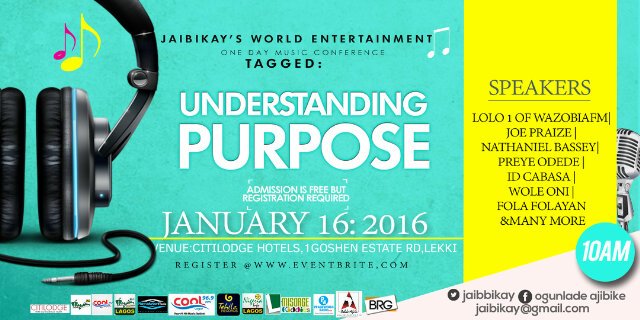 COMPLIMENTS OF THE SEASON!
Follow Us On Twitter Via @Churchcreed1
Like Us On Facebook Via Facebook.Com/churchcreed2
Add us On Whatsapp via +2347068962168